You don't need to be a tarot card pro to get your cards read. All you need: your Sun sign! Here's what I do: Shuffle my tarot deck and pull out the cards in order from Aries to Pisces plus one general card for everyone so that you can get specific advice around your personality.
Basically, if your bank account is not ready for a full tarot reading just yet, this one should help tide you over for now!
A GENERAL CARD FOR EVERYONE: THE HANGED MAN
Raydene Salinas Hansen/Rider-Waite deck
When The Hanged Man visits us, sometimes we just have to swing with him awhile in limbo. Maybe your plans have stalled, maybe you feel stuck, maybe the sacrifices you've made have not paid off and you're wary of giving more to it. Whatever the blockage is, stop trying to trudge through it. Pause. Take a time out. Use this week to look at things differently or seek another perspective. From a new angle, a new trajectory can emerge. Sometimes, stopping is the best way of moving forward.
ARIES: NINE OF SWORDS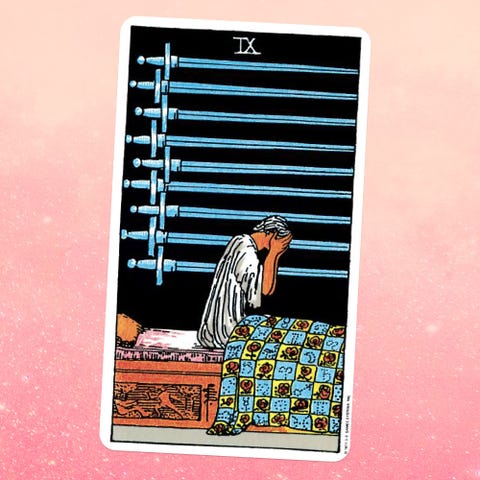 Rider-Waite deck/Raydene Salinas Hansen
Do you feel anxious at all? If so, can you locate where this feeling lives inside, and what triggers it? The Nine of Swords says you have an opportunity to address whatever's been gnawing at you simply by voicing it to someone you trust. Aka, identify your feelings, and tell a friend all about it over a coffee. You'll feel lighter right away.
TAURUS: THE HIGH PRIESTESS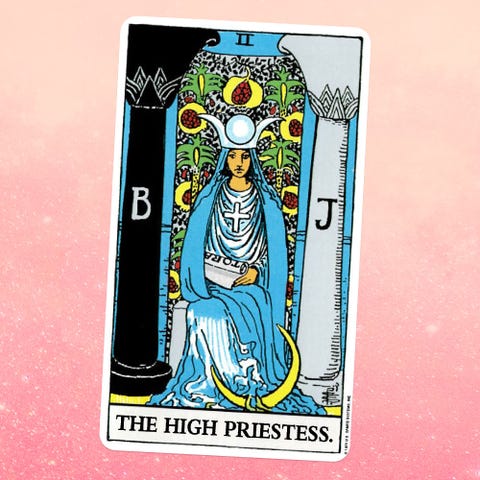 Raydene Salinas Hansen/Rider-Waite deck
Trusting your gut is the theme of this week, Taurus, so it's time to hunker down at home (your fave) or wherever you feel most at peace (it's home isn't it?).
Mediate, ruminate and lose yourself in your own inner world.
You're a deeper thinker than anyone realizes, so take an inner journey, poke around some dusty corners, and check back on any recent events. Something is waiting to emerge and you just need to hit on the right spot… then, BAM, a lightbulb moment!
GEMINI: FOUR OF COINS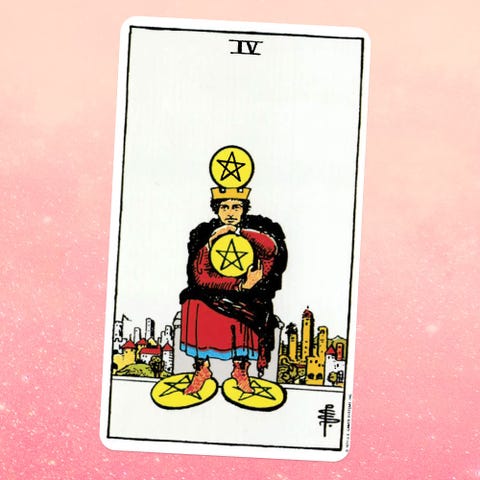 Raydene Salinas Hansen/Rider-Waite deck
You've gotten stuck in a rut, and that is NOT like you, Gemmy. The Four of Coins shows up when you're hiding away, even though you know you should really get up and face the world. I know you want to stay just a liiiiiitle bit longer but no, it's time. Get out there and do what you do best i.e. talk your way out of this and move on to something far more fulfilling and interesting!

CANCER: KING OF WANDS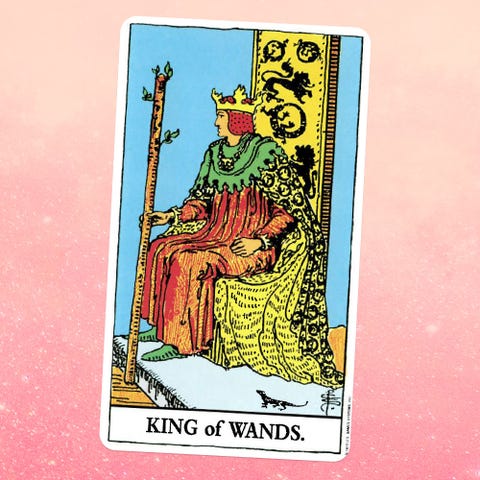 Rider-Waite deck/Raydene Salinas Hansen
Cancer, you LOVE your home and being nestled with your faves in a cozy spot on the sofa, looking forward to an eternity of snacking and chilling. Well, schedule that for another time, because the King of Wands is in town this week and wants you out and about, seeing new places, and sniffing the air for opportunity. Something big and exciting might happen for you, but you need to hunt for it first. If you can do this all week, the universe will let you have a home chill at the weekend, but only if you've kept to your end, OK? So get out there!

LEO: THE WHEEL OF FORTUNE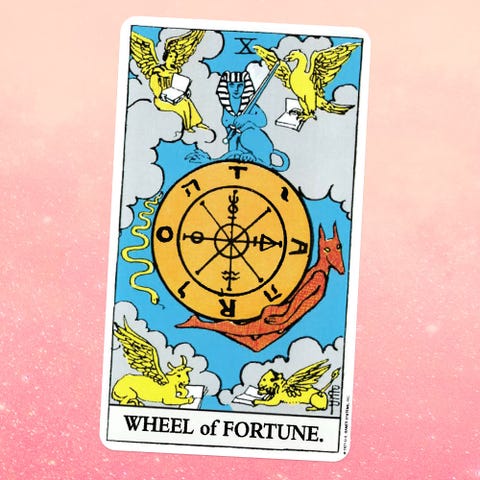 Raydene Salinas Hansen/Rider-Waite deck
This card represents transformation and indicates that change is coming whether you embrace it or not. So, the best thing to do is spark movement towards something in your life that you've long thought about. Pick just one thing, focus on it, and make it happen. This will start that wheel of fortune turning from the right place, and enhance your chances of its momentum getting you to the things you want. Be the doer vs. the "done to" and change one thing today!
VIRGO: QUEEN OF SWORDS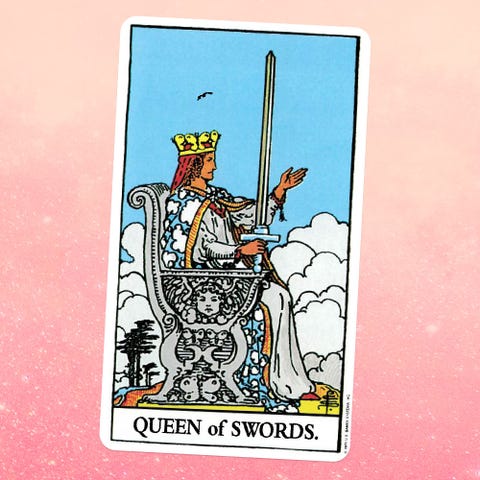 Getty/Rider-Waite deck/Raydene Salinas Hansen
You love to help others out–which is a great thing. But, this week, how about you reserve that helpful, do-good energy for you and you alone? The Queen of Swords wants you to invest in your own ambitions and desires. Imagine if you were one of your closest friends: what would you be stepping in to iron out or improve? Identify some weak spots, and use your powers to address them. Be your own best friend this week.

LIBRA: ACE OF SWORDS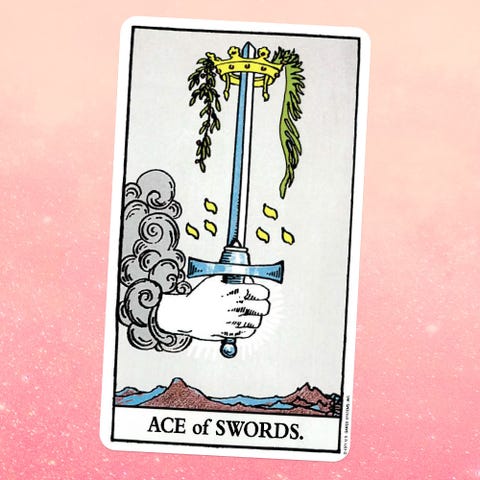 Raydene Salinas Hansen/Rider-Waite deck
Your diplomacy is world class. Seriously, Libra, you could be a global ambassador. Sometimes, though, your desire and ability to smooth over frictions can leave you unsure what your own true feelings actually are.
You're pretty afraid conflict and tension, but sometimes it's necessary:
it highlights where work is needed, and where empathy and compromises are just not cutting it. Be honest, and let others do the same without trying to placate them right away. The unpleasantness will pass, and you can work from a firmer foundation based on the whole truth.
SCORPIO: THE CHARIOT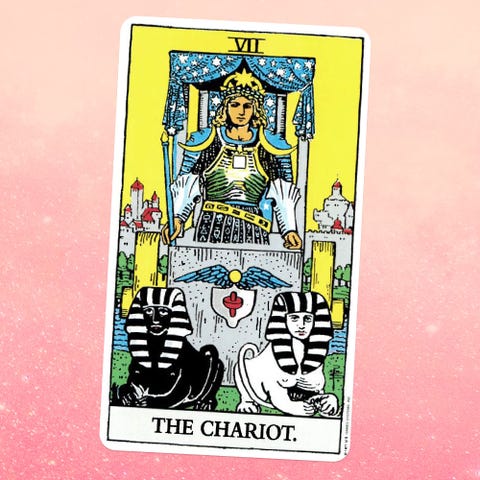 Raydene Salinas Hansen/Rider-Waite deck
Get your car fixed, renew your metro card, buy a bike, book a trip, ponder on next year's holiday plans–heck, make some more for 2019! The Chariot is with you this week, Scorpio, which means you should focus on your transportation (yawn…) or your travel plans (YAY!). Movement is important. New landscape = new opportunity. The world is too big and interesting to just stay put in one place, so broaden your horizons in whatever way is feasible and meaningful for you right now.
SAGITTARIUS: SIX OF SWORDS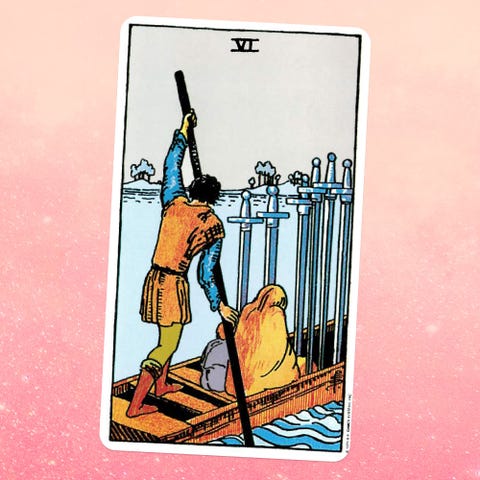 Raydene Salinas Hansen/Rider-Waite deck
Freedom is your catnip–you simply cannot
bear
to feel confined or constrained in any way. So, how have you ended up being hemmed in again?
The Six of Swords shows that a situation has remained the same for far too long
, and you've stayed put for fear of the consequences, even though you know it's not sustainable–or right. Well, the door is ajar and it's time to make a bolt for freedom, Sagittarius. Are you ready?
CAPRICORN: FOUR OF CUPS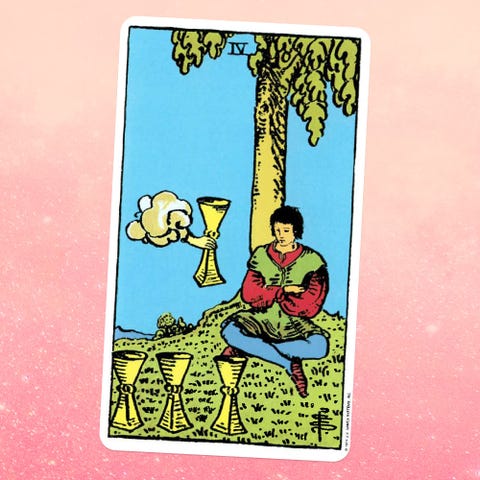 Rider-Waite deck/Raydene Salinas Hansen
Someone is working so hard to make you happy and puts so much effort into your relationship… but you just can't see it. Maybe this is a family member, a friend, or a partner. The Four of Cups shows up when you're missing a gem right under your nose. We all get fixated on the things we lack, and overlook the spots where great things are abundant. It's human nature, but sometimes you have to kick yourself to connect back with the people who have your best interests at heart. Give back as much as you receive.
AQUARIUS: TEN OF CUPS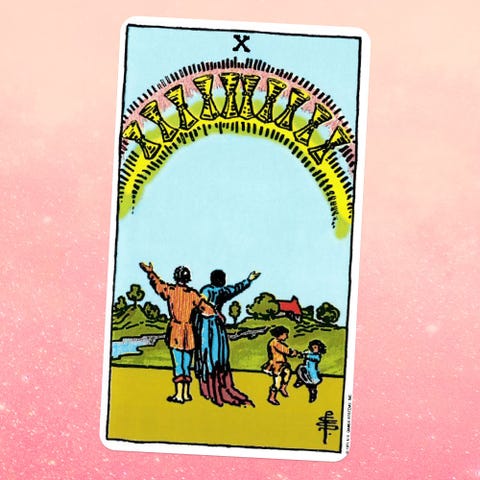 Raydene Salinas Hansen/Rider-Waite deck
Romance is on the menu this week, Aquarius.
Whether you're boo'd up or single, there's love all around you and it's going to feel SO good.
For those in love already, dole out some extra TLC and attention upon your other half–it will be well reciprocated. For those looking for love, keep your eyes open for a sexy, charming, passionate water sign (Cancer, Pisces, Scorpio) OR take a trip with pals to somewhere connected to water (the beach, pool, spa–even a bar with a watery name or theme works!) Cupid is coming for ya.
PISCES: SIX OF CUPS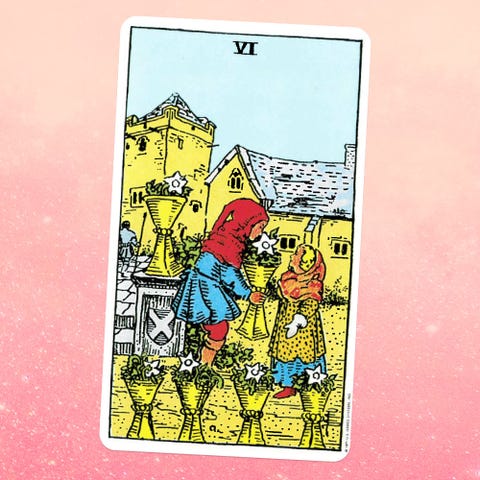 Raydene Salinas Hansen/Rider-Waite deck
Nostalgia is your theme of the week, Pisces. The Six of Cups asks you to look back to your past and childhood to identify the things you've forgotten which once made you so happy. Simple pleasures, natural talents, old friends, joyful places. What did you look forward to, once upon a time? This card appears because there'll soon be an opportunity to reintroduce something or someone into your present, and you need to be ready to spot it!
Kerry Ward
TarotBella
Kerry Ward, AKA Tarotbella, is a tarot reader with over 20 years experience and many happy clients all over the world (including some famous ones…).