How Tinder Picks Works [And How To Get It]
Tinder is no stranger to taking inspiration from other popular dating apps when developing new features.
Tinder Places is reminiscent of Happn's "missed connection" format, and Tinder Feed incorporated Hinge's ability to comment directly on photos and other profile content.
And now CoffeeMeetsBagel's curated approach to matching has inspired a new perk for Tinder Gold subscribers – Tinder Picks.
This is great news for anyone tired of the seemingly endless swiping it takes just to find a few gems. Now you can skip straight to a curated selection of matches Tinder has chosen just for you.
Keep reading to find out how Tinder Picks works, how to get it, and how to get the most out of this Tinder feature!
Tinder Picks Explained
This Tinder feature takes information like education, occupation, hobbies, and interests shared in user profiles and uses it to put them into various categories.
As Tinder's Chief Product Officer Brian Norgard explained,
"Picks delivers a personalized, premium user experience within Tinder Gold that puts a spotlight on unique characteristics that make our users stand out."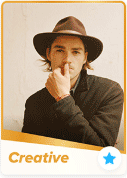 For instance, if someone's profile says they're an artist, you might see the label "Creative" emblazoned across their photo. Someone who enjoys rock climbing might be categorized as an "Adventurer."
Other categories include "Military," "Scholar," "Foodie," and "Traveler."
You can tap on the golden diamond icon and see what Tinder considers to be your "top picks" based on your swiping history – a custom selection of local singles the matching algorithm feels would be of particular interest to you.
3 Things You Need To Know About Tinder Picks:
1. You Need Tinder Gold To Use It
Free users can view their Top Picks, and interact with one of them per day. But if you want to swipe, Super Like, or view profiles for more than just one, you'll have to upgrade to Tinder Gold.
Tinder Picks also works in conjunction with the Passport feature – your selection of Tinder Picks will reflect whatever location you're swiping in.
If you don't already subscribe to Tinder Gold, here are the additional perks that come with it:
Full access to Top Picks
See who's already "liked" you
Hide your age and distance
Undo your last swipe as often as you want
1 free Boost per month
Make your profile visible only to people you "like"
Unlimited right swipes
Turn off ads
5 free Super Likes daily
How much Tinder Gold costs depends on your age and location, but it will be somewhere in this neighborhood:
2. It's Only Available In Limited Test Markets (For Now)
So far, Tinder Picks has launched in the US, UK, Australia, Brazil, Germany, Canada, France, Tukey, Sweden, Russia, Mexico, and the Netherlands.
Tinder Picks is available for both iOS and Android in those test markets.
If it's in your area, all you need to do to get Tinder Picks is tap the gold diamond icon at the top of the screen to view your curated match feed.
3. You'll Want To Check The App Daily (If You Don't Already)
You'll get between 4 and 10 curated matches every day, but don't delay swiping on the sinlges who intrigue you – Tinder Picks refresh every 24 hours.
If you want more, premium subscribers can purchase additional Picks in bulk quantities of 10, 20, or 30. Right now, pricing varies depending on the test market you're in.
Get More Matches With Tinder Picks
Having Tinder cherry pick your best matches can save you a lot of swiping time, but your profile needs to compel them to like you back. You also want to boost your chances of being someone else's Top Pick, and for that you need a bio that knocks it out of the park.
Here are 3 Tinder tips that will help make you irresistible to all your top Tinder Picks:
1. Get Specific In Your Bio
Tinder's algorithm will evaluate your occupation, education, and hobbies/interests, so make sure you give it plenty to work with when it comes to determining your label. For example, a Tinder bio like this showcases your sense of adventure and love of travel:
2. Keep An Eye On Proportions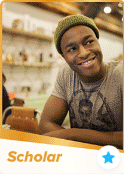 The ideal primary Tinder pic shows the upper 2/3rds of your body. Not only has research found images cropped more like a traditional head shot were consistently rated as more attractive, it's also what looks best in the "Top Picks" grid view.
Here are some other primary photo "rules" that will help you get more right swipes on Tinder:
Choose an image taken with a high-quality camera where the focus, lighting, etc. are all on point.
Be the only person in the frame.
While you don't necessarily have to make eye contact with the camera (although that's a great way to spark an immediate connection), do make sure your eyes are visible. Sunglasses or other obstructions don't do your likeability any favors.
3. Let The Masses Help Choose Your Lineup
Whether you enable Tinder's Smart Photos feature or use a site like PhotoFeeler to gather opinions, getting feedback on your photo selection is vital.
Here is why – it's simply not possible for you to evaluate your pictures the same way a total stranger will.
You're so familiar with your own appearance that your brain naturally glosses over details someone who has never seen you before might pick up on right away.
And as you know, the devil is in the details.
You want to choose the photos that other people find most attractive, and the only way to do that is to gather opinions. It's well worth the time and effort to get the most attractive photo lineup possible.
Tinder launches its curated 'Top Picks' feature worldwide
Earlier this summer, Tinder  began testing a new feature that surfaces a curated list of your best potential matches, called "Top Picks." The feature, which is only available to paying subscribers on Tinder Gold, is now available worldwide, Tinder says.
Top Picks had also quietly launched in the U.S. and U.K. last week following initial tests in Germany, Brazil, France, Canada, Turkey, Mexico, Sweden, Russia and the Netherlands, in addition to the U.K. However, Tinder waited until the global rollout was underway to announce its arrival.
The idea behind Top Picks seems a bit inspired by the dating app Coffee Meets Bagel, which similarly focuses on curation of matches to reduce users' impulse to continue swiping through what feels like an unlimited number of profiles. Humans don't do well with too many choices – an overabundance of options can actually lead to anxiety, and – in the case of dating apps – an inability to settle on a decision, as users know there's always another potential match just around the corner, or so it's been argued.
Tinder's solution for this is Top Picks, a more limited set of potential matches it thinks users will like based on information in users' profiles like education, type of job, hobbies and interests. Tinder then uses this data to organize users into groupings, like "foodie" or "creative" or "adventurer" and so on.
This information is combined with users' previous swiping behavior to determine the day's Top Picks, which area available to toggle over to (via the diamond icon) on the app's home screen.
While Top Picks will refresh daily, users can opt to buy more Top Picks in packs of 10, 20 or 30 a la carte, Tinder says. (Yes, by "packs" we do mean groups of user profiles – Tinder has turned people into in-app purchases you can buy. Yeah. Great.).
The feature is only available to Tinder Gold subscribers, meaning it varies in price. Tinder charges older users more for accessing Gold, and weights other factors like region, length of subscription, and recent in-app promotions when showing you its pricing.
Paid features like Top Picks have helped to fuel Tinder's growth and its revenue.
Following the launch of its subscription service, Tinder Gold, the app quickly became the top grossing app in the App Store. And it has held a top spot ever since – even becoming the number 5 top grossing app of all-time, according to a recent report of the App Store's biggest apps.
Paid subscribers are also soaring. Tinder parent company Match Group reported that Tinder added 299,000 paid members in the second quarter, totalling 1.7 million additions in the past year, and more than 3 million to date.
"We're excited to finally share Top Picks with our users around the world given its early success," said Brian Norgard, Chief Product Officer at Tinder, in a statement. "Data suggests users in test markets have loved the feature, and we're happy to make one Top Pick available to all users each day with this global rollout. The feature refreshes every day, highlighting the diversity, talents and passions of our users in a simple, fun and useful manner."
The launch of Top Picks arrives at the same time that a new documentary about Tinder's outsized influence on dating culture, Swiped, has debuted on HBO.
The film takes a fairly damning view of online dating via apps like Tinder, by highlighting some of its worst attributes – like the men ordering women to their home the way they do Seamless; the swipe addicts who always think there's someone better out there; the unsolicited sexual photos women receive; as well as the overall decline in value for genuine human connections, due to the abundance of choice offered by dating apps' massive "catalogs."
Top Picks won't necessarily solve these problems. At best, it may at least help users narrow their focus and begin to understand there aren't actually endless dating options when you have certain criteria in mind. At worst, it may encourage users to view people as even more of a commodity, as they click to pay merely pennies for more Top Picks "packs."
What is the point of Tinder's Top Picks? What is it supposed to do for you?
According to Tinder, Top Picks will make your life easier by offering a selection of profiles "picked just for you", so you don't have to waste your time swiping on randos. The implication being that these people are the best fits for you according to Tinder's algorithm; That they had analyzed your swiping behavior and picked the best matches for you according to your taste. If true, that would mean you could set your fear of missing out aside and reduce your swiping to just these few curated profiles, because looking at others in your normal queue would just be a waste of time.
When the blog post announcing the feature first came out, this implication was a lot more explicit. I believe they ended with something along the lines of "Do we know you better than you know yourself?". They have since changed the wording, backpedaling quite a bit. I wonder why? Personal recollection. May be flawed.
Another supposed benefit is that Picks highlights special attributes of your matches-to-be right in grid view ("showing you what makes your Picks swipe-worthy at a glance"), so you don't even need to waste time reading profiles.
How does "Picks" pick profiles for you? What does its algorithm actually do?
The notion that these profiles were selected especially for you, according to your tastes, or that they would be especially good fits for you according to the algorithm quickly fades when you log in to your freshly made Tinder account and check "Picks" to see a gallery of profiles already waiting for you before you even made your first swipe.
Seeing as this is not OkCupid, and we don't fill out personality profiles, the only information Tinder has to work with is on whom you usually swipe right, on what other profiles people who also swipe right on that one usually swipe right as well, and the information contained in those profiles' bios.
That sounds complex enough to at least get some hits on your personal taste, but the theory goes right out the window when there are already suggestions for new members.
So what are these picks actually based on?
My best guess: Absolutely nothing. At least nothing tailored to you. They may be relatively popular profiles who have shown a higher than usual right swipe rate, increasing your chances to match with them, which would make you a happy (returning) customer. Or they may be completely random. We do not know, but considering this next part, I highly doubt it's anything sophisticated.
But what about these "Highlights"? Do they at least offer some valuable info?
Supposedly, the golden catchwords on the profiles such as "Doctor", "Adventurer", "Creative" make the search easier for you if that's what (or all) you look for in a match. In practice, the results are involuntarily hilarious:
"Athlete"
Taylor* here seems to be quite the athlete. She likes to run errands.
"Scholar"
Mandy*, on the other hand, is apparently a scholar, because she listed a university in her bio.
Of course, this doesn't come as a shock, when you consider where they can draw that information from. What's shocking to me is that someone decided this was good enough and should be pushed to the public. Which brings us to the answer of the titular question:
Is Tinder Picks worth paying for?
That would be a resounding NO, from me. Tinder Picks adds nothing of value over the standard (free) swiping experience. If you already have Gold anyway, sure you can give in to curiosity and go see your daily picks. Maybe you'll have a laugh. But if you were considering getting Gold just for this, you may want to reconsider. And if you were considering buying additional packs of picks, I may have a bridge to sell you (the contact form is in the footer).