Translating…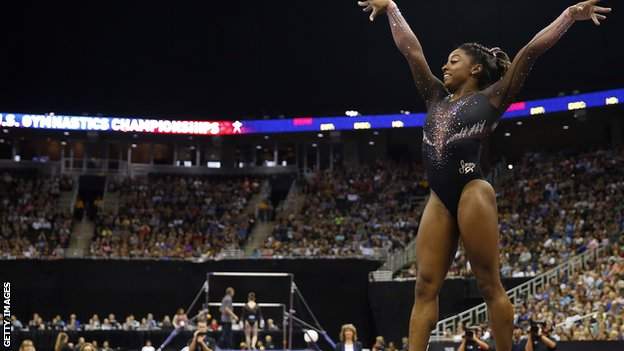 Simone Biles reiterated her call for an independent investigation into the Larry Nassar sex abuse scandal as she responded to a tweet from USA Gymnastics wishing her happy birthday.
Nassar, USA Gymnastics' ex-doctor, was jailed for life for abusing more than 250 athletes, including Biles and members of the Olympic teams.
"How about you amaze me and do the right thing – have an independent investigation," said the 23-year-old.
Biles is the most decorated US gymnast.
She has won 19 world titles and four Olympic gold medals.
In January, USA Gymnastics announced a plan to pay a $215m (£164m) settlement to the group of athletes abused by Nassar, who was sentenced to up to 300 years in jail in 2018.
In a 2018 interview with the BBC, Biles said she was "relieved" after speaking out about Nassar after feeling "a lot of pressure" to keep the truth to herself for so long.